Heating & Cooling Rebate
Up to $1700**
Solar For Business Rebate
Up to $3500**
Battery Rebate
Up to $2950**
Produce Your Own Energy With Solar
When it comes to your family's comfort, rest easy and trust Online Air and Solar for heating and cooling system installation.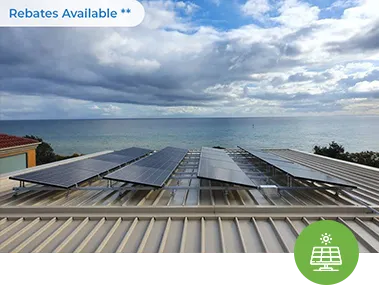 Choose the smart way to power your home with our energy-efficient solar panels that deliver exceptional energy results.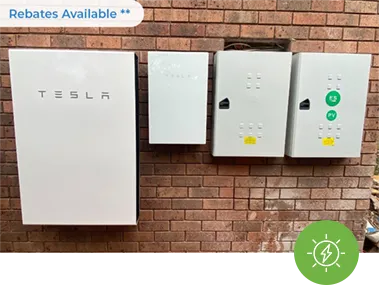 Solar batteries store unused and excess solar energy and use it to power your home when you need it the most.
About Online Air & Solar
Victoria Best Solar Installation & Heating Cooling Company
Power your property with renewable energy by choosing Online Air and Solar for solar panel and battery storage installation. From residential and commercial Solar Panels to heating and cooling systems and batteries, our CEC accredited installers specialise in installing almost any capacity of system to improve your home's thermal comfort and lower energy costs. Online Air & Solar is proud to be one of most experienced solar panel installer in Melbourne providers, established and trusted in Australia.
You are eligible for solar and battery rebates for every solar system you install and any heating and cooling upgrade you do to save dollars on installation. Our solar services are second to none.
Add Solar Energy To Your Life
Our Solar Process
Online Air and Solar is one of the leading solar panel company with qualified staff and services. We assure you that we will take care of you every step of the way so that you can enjoy a hassle-free experience.
Step:-1
Schedule Consultation
Want to install solar panels? Talk to our CEC accredited installers over the phone or in-person and get a customised solution for sustainable energy.
Step:-2
Get A Price Quote
If you are a solar rebate customer, once you've accepted your quote, we will send it to Solar Victoria and guide you on how to start your solar rebate application.
Step:-3
Rebate Application
Solar Victoria will notify us when your rebate application is approved. We will then contact you to book your solar panel installation date to get started.
Step:-4
Installation & Payment
We will email you the invoice after the installation of your solar system, and after receiving full payment, we will arrange for your compliance inspection.
Step:-5
Compliance Inspection
We will organise an external Licensed Electrical Inspector from Energy Safe Victoria to carry out an inspection and our system will be certified after this.
Step:-6
Solar Grid Connection
On completion of your inspection, we will receive a Certificate of Electrical Safety (CES). We will send your grid connection application to your electricity retailer.
Our Difference
Why Go Solar?
By harnessing clean and renewable energy directly from the sun, solar panels reduce the dependence on grid supply, thereby decreasing your electricity bills and making you self reliant. Switching to solar is an economically and environmentally viable option for both residential and commercial properties.
We offer their services to clients in
Melbourne
,
Wantirna South
,
Taylors Hill
,
Craigieburn
,
Ringwood
,
Mentone
,
Springvale
,
Truganina
,
Deer Park,
Cardinia,
Longwarry
,
Mornington
,
Koo Wee Rup
,
Cranbourne South
,
Clyde
,
Officer
,
Pakenham
,
Carrum Downs
and many other areas across throughout Victoria.
Client Testimonials
What Our Client's Says!
The guys arrived when they said they would. Great pair. Worked very well, and with good humour and patience when there was a slight glitch in the power supply. Their information at the end to explain the system and how it works was very helpful.
Have used OAS for all electrical work since they were involved in building the facility 5 years ago. They are always a pleasure to deal with and professional. Will continue to work with them for the business site, and if I need solar at home, I would call them without hesitation.
It was such a professional experience dealing with Online air & solar. I loved the way they explained things to me. They did not hesitate to visit multiple times to answer all my queries. Highly recommend them to anyone looking for a quick & quality installation.
I have dealt with and used Online Air & Solar both professionally and personally. I have done this because their workmanship is faultless, their customer service is faultless and most importantly their OH&S and safety management standards are impeccable.
Thanks team!
Impressed! Great to deal with both during the initial discussion and quoting process, through to installation. Did an excellent job installing a 25kW at our factory. Excellent customer service, pre-sales and professional installation. Highly recommended.
I'm very happy with this company! They are an excellent team of installers and electricians. They were professional in every aspect. The process from the beginning to end was faultless. No problems! I recommend Online Air and Solar.
The workmen at Online Air and Solar were punctual, they worked hard and didn't leave a mess for me to clean up . The company were very professional and I have recommended them to others, two of whom will use this company to have solar installed.
I never give 5 stars, however OAS have earned it. They made the whole process easy, comfortable with no pressure. I have tried 3 times previously with other retailers and found it pressurizing. With OAS, the process has been professional and a pleasure. Highly recommend.
Loving my Daikin Cora that Online Air and Solar installed in my bedroom! No more sleepless nights and waking up to a warm room on a rainy day like today was an absolute bliss. The guys did an amazing job installing the system and left the place cleaner than it was before!
It was such a great experience to deal with professionals at Online Air and Solar. I would encourage anyone who is looking for a reliable, professional and customer friendly company to go to Online Air and Solar without hesitation. Thank you for a wonderful experience.
The service from day dot was fantastic, well informed and answered all our questions. The team was a pleasure to deal with. Not only was the initial process made easy, but the install team had the upmost professionalism whilst doing their job.
I would highly recommend these guys at Online Air & Solar. Being an electrician myself, I was happy to see how professional these guys are. Installer was really experienced & knew what he's doing. Sales person never pushed me to make a quick decision.
Your Trusted Choice
Where Reputation Matters
With more than a decade of experience, we have managed to earn an industry reputation and accreditation. Our hard work has paid off, and we're trusted by hundred's of residents in Victoria.

Clean Energy Council Approved Retailer and Member
All our solar panels and inverters are approved by Clean Energy. This shows our competence in installation and compliance to quality standards.
National Electrical & Communications Association Member
We are a proud member of NECA, a peak body for the electrotechnology industry. NECA provides us with advice and information to serve you better.
Tesla Powerwall Certified Installer & Retail Partner
We install the most advanced solar battery storage, Tesla Powerwall. You can also take charge of your energy with the Tesla App.

My Place Retail Partner As Seen On The Block, Channel 9
With MyPlace, we offer you the best and most affordable smart home system making it a great investment for your family.

Dealer of the Year Climat 2018 and 2019
Each year this award recognises the company whose expertise, hard work and business acumen have stood out in the Air Conditioning industry

100% Australian Owned and Operated
We take pride in our Australian culture. With 100% of our award-winning staff in Victoria, we understand your wants and needs.
Frequently Asked Questions (FAQs)
Low Cost Guarantee- We Beat Our Competitors Price!
Get A Quick & Free Written Quote Today.