Solar Panel Installer Mentone
Bringing Sun To Your Roof
Solar System, Heating & Cooling Unit Installation in Mentone
Online Air and Solar is a premier solar panel company in Mentone dedicated to providing affordable clean energy solutions to residential and commercial clients planning to go solar. From solar systems of all sizes to heating and cooling upgrades, rely on our team of CEC accredited solar installers in Mentone for high quality services within your budget.
We are here to help you make the switch to solar so as to boost your savings on electricity in the long run. To make sure you won't end up burning a hole in your pocket, Solar Victoria provides up to $1400 rebates for solar homes, $3500 rebates for solar businesses, and $1700 rebates on heating and cooling upgrades.
Get the Lowest Price Guaranteed!
Get a FREE no obligation energy consultation
Get a FREE Roof Design Report
Get Panels and Inverters of your choice
Empower Your Home With Heating & Cooling Systems
Are you thinking of powering your home or business with solar energy or HVAC systems? Online Air and Solar is your go-to choice for rooftop solar PV installation in Mentone, along with replacing outdated air conditioners and heaters with upgraded ones that ensure more savings and energy efficiency.
To make sure you won't end up making a wrong choice, our team provide free consultations to help you determine which heating and cooling system installation in Mentone will work the best for you. With us, you can rest assured as you'll receive nothing but the best in every service you hire us for.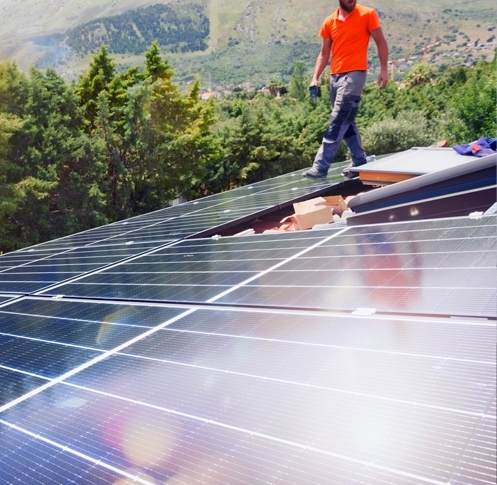 What Makes Us The Best Choice?
At Online Air and Solar, we are one of the reputed solar companies in Mentone that is proud to earn an industry reputation for delivering top-notch solar, heating and cooling solutions to clients at an affordable cost. We are CEC approved solar retailers specialising in installing custom solar panels based on your energy usage and requirements. You can rely on us for:
Your Trusted Choice
Where Reputation Matters
With more than a decade of experience, we have managed to earn an industry reputation and accreditation. Our hard work has paid off, and we're trusted by hundred's of residents in Victoria.

Clean Energy Council Approved Retailer and Member
All our solar panels and inverters are approved by Clean Energy. This shows our competence in installation and compliance to quality standards.
National Electrical & Communications Association Member
We are a proud member of NECA, a peak body for the electrotechnology industry. NECA provides us with advice and information to serve you better.
Tesla Powerwall Certified Installer & Retail Partner
We install the most advanced solar battery storage, Tesla Powerwall. You can also take charge of your energy with the Tesla App.

My Place Retail Partner As Seen On The Block, Channel 9
With MyPlace, we offer you the best and most affordable smart home system making it a great investment for your family.

Dealer of the Year Climat 2018 and 2019
Each year this award recognises the company whose expertise, hard work and business acumen have stood out in the Air Conditioning industry

100% Australian Owned and Operated
We take pride in our Australian culture. With 100% of our award-winning staff in Melbourne, we understand your wants and needs.
Switch To Solar Today & Save Dollars On Energy Bills!