Save up to $3,700 on the upfront cost of your solar system with a combined Solar Homes rebate and interest-free loan
On this page, we will examine the Victorian Solar Rebate Scheme (updated on 29 June 2020). All information in this article is from the official Solar Victoria page.
A Brief Overview of the Solar Victoria Rebate Scheme
The Solar Homes Program, introduced in 2018, promises Victorians up to a 50% rebate on newly installed solar systems. Victorians are now able to install a solar panel system for half the price and pay the rest of the cost back over four years with an interest free loan.
How Does It Work?
The value of this Victorian rebate from July 2020 is 'up to' a value of $1,850 or 50% of the price; whichever is lowest.
This means the following:
Purchase a solar system for $3,000, the maximum rebate will be $1,500
Purchase a solar system for $6,000 the maximum rebate will be $1,850– because it's capped as this amount.
The scheme is capped with a certain allotment of rebates allowed per month as below: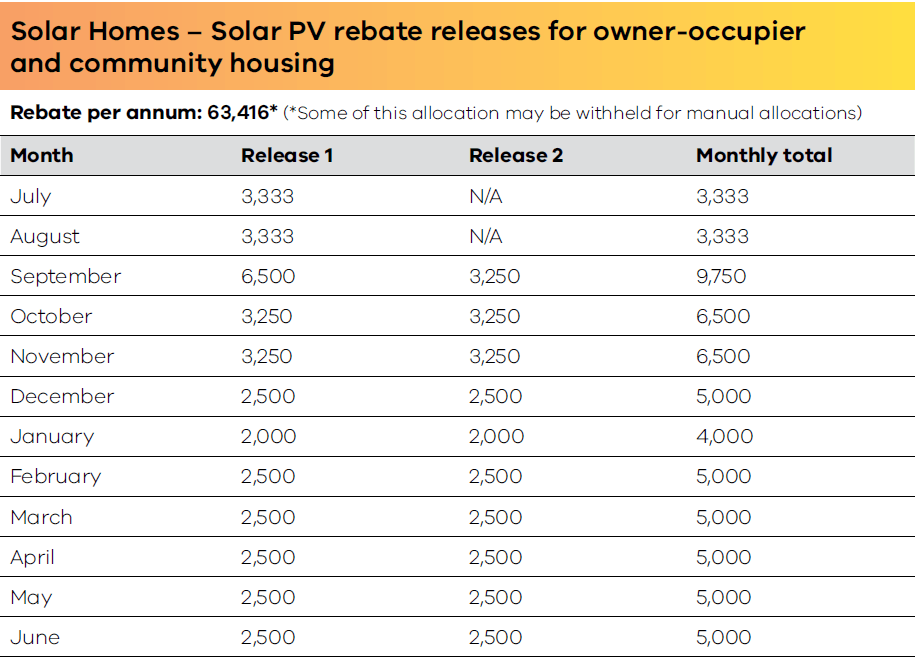 Am I Eligible?
According to the Solar Victoria Website, Victorian households are eligible to receive a rebate for installing a solar PV system if they meet the following criteria:
How To Apply?
The rebate process has been updated by Solar Victoria to make it easier for potential customers. Online Air and Solar is an authorized solar retailer that can provide you with a quote.
Online Air and Solar will then upload the quote into the Solar Victoria Portal, checking your application for eligibility. Once you have successfully completed this application via the portal you will be issued with an eligibility number. You must then provide this number to your installer as it will confirm that they can go ahead with your installation. Without this eligibility number, the installation cannot proceed.
Solar Batteries Rebate
Also included in the scheme were rebates for Solar Batteries.  The battery rebate is up to a maximum of $4,174. However, it should be noted that these rebates are much more limited in numbers.
Update for July 2020
Solar Victoria introduced a Notice to Market  process to advise the industry of upcoming changes to approved product lists and other requirements, so retailers and installers were aware in advance of planned changes that affect them and their customers.
The current Notice to Market, released April 2020, is effective as of 1 July 2020.
Rebate Releases
In the first six months of the 2020-21 financial year, there will be 33,500 rebates made available in total for owner-occupiers, community housing, and renters.
The availability of rebates will be communicated via the Solar Victoria website to ensure information transparency and confidence for Victorians.
Rebate Amount
The rebate has also slightly modified for the rest of 2020 as below:
Householders who apply after the 1st of July 2020, will receive a rebate of up to $1,850. The no-interest loan will still be available and will match the rebate amount up to $1,850.
Householders who commenced a solar PV application and secured a place before 30 June 2020 will receive a rebate up to $1,888.
The rebate price for solar hot water is $1,000 in 2019-20 and will remain at this value from 1 July 2020.
COVID-19 Update
Solar Victoria has also announced Covid-19 provisions to assist with those who have undertaken the finance plan option and been affected by the pandemic.
For more information, send us a quick inquiry & our staff will be in touch with you as soon as possible.