Let Online Air and Solar turn your home into a smart home with MyPlace
MyPlace is a smart home control system that operates most 240 volt hard wired appliances through one easy-to-use integrated system. Your MyPlace comes with a slimline 8" or optional 10" colour touchscreen and 6 on/off relays to control existing products in your home, such as lights, air conditioning, fans and your garage door, the choice is yours. This comes in modular form, allowing you to add more now or later. Online Air and Solar offers only the best and most affordable smart home systems such as MyPlace making it a great investment for your family.
Always Lock Up
When you're in a rush, it's easy to forget to close the garage door. If it's left open, MyPlace will send you a notification. You can then use the MyPlace app to close it with one simple tap.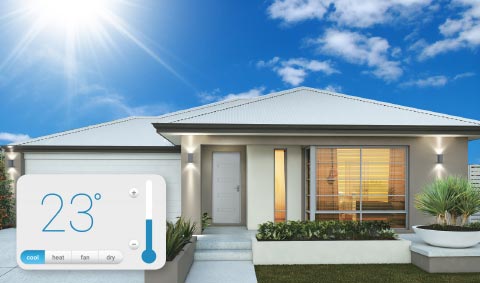 Come Home to Comfort
It takes time for air-conditioning to effectively cool or warm a house. By using MyPlace to turn it on before you get home, you always arrive home to your preferred temperature.
Feel Secure
When you hear a disturbance, or you arrive home in the dark, you can instantly turn on all your lights from your smart phone using the MyPlace app.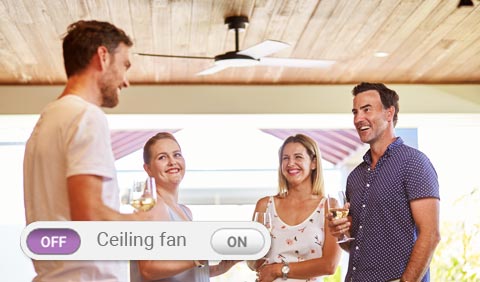 Enjoy the Great Outdoors
Entertaining outdoors? MyPlace helps you show off your place to its best. With the MyPlace app, you can use your phone to turn on the mozzie light, ceiling fan or outdoor lighting.
Holiday Insurance
With MyPlace, your home always looks occupied. By controlling the lights and blinds, you can make it look like you're home, even when you're on the other side of the world.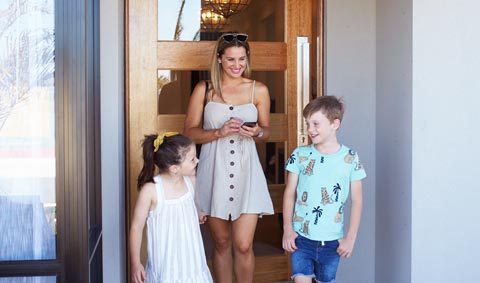 The Choice is Yours
With MyPlace, you can control most 240 volt hard-wired products that are already in your home, turning it into a smart home that suits your lifestyle.
Why MyPlace for your Connected Home?
Works with Existing Products
MyPlace makes smart technology affordable by working with your existing items in your home such as lights, garage door, fans and blinds.
MyPlace is your Home Hub
Your MyPlace touchscreen allows you to control your home through one simple integrated system. Being hardwired to the wall, it also never needs recharging.
MyPlace App for Control
With the MyPlace app, you can control your products from anywhere. It turns your devices into additional remote controls.
Easy to Install
With the MyPlace app, you can control your products from anywhere. It turns your devices into additional remote controls.
Adds Value
By installing MyPlace now, you get to enjoy the comfort with control. And if you decide to sell, your home is even more appealing to buyers.
Australian Made
MyPlace and Online Air and Solar are both Australian-owned. We're here to always ensure that you get the most out of your smart home system.